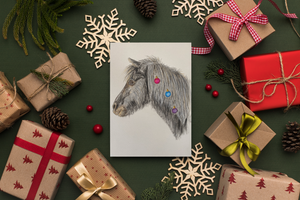 "Charlie Cheer" Pack of 10 Folded Cards (white envelopes) (US & CA)
"Charlie Cheer" by artist, Pat Wilson, designed exclusively for Jacobs Ridge Animal Sanctuary.

A pack of 10 beautiful folded cards with envelopes. Perfect for spreading Christmas cheer, just like Charlie with his baubles.
White envelopes are included.
Minimum quantity: 1 pack of 10 folded cards. Blank inside.